1990 Bridgestone MB-2
This is just a great frame. It's big (52cm)...well, big for a downhill mountain bike, so it works well as an all rounder. It's got Ritchey Logic Presitige tubing with Cromo seat/chain stays. Brazed. Lugged. Last a lifetime. It's got plenty of eyelets for fenders and racks and all sorts of stuff. You can't go wrong with this guy.
This is my hauler, store-runner, pull-the-kid-trailer, bike. I've got unnecessarily huge, knarly, ridiculous tires on it. I tell myself that they are for the snow, but really it's my own little version of a Hummer. It fulfills some inner wanky need in me to have an over-the-top, unnecessary waste-of-energy component.
Look at these tires.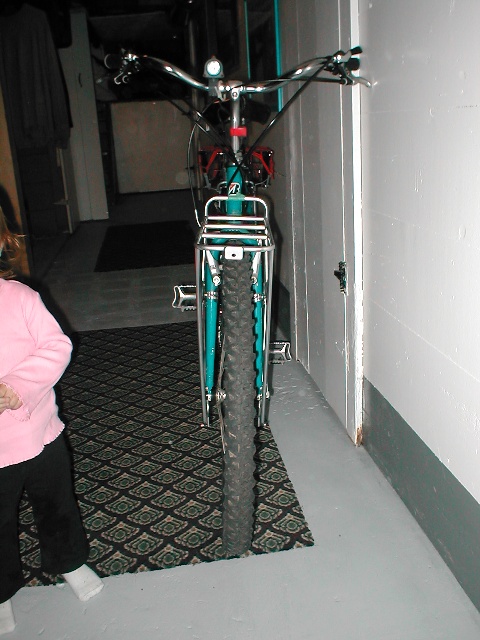 Ridiculous. I'll put the Vittoria Randonneur's on there in the spring. But I need to wank out for a while first.
Here are the components:
Front Derailleur - Suntour arx, from garage sale Fuji
Rear Derailleur - Shimano LX from my friend's bike
Crankset - Shimano LX? FC-MC34, 175.0mm, 110/74 BCD, 42/32/20 chainrings
Pedals - DiamondBack BMX platforms
Shifters - NOS Suntour LCD Thumbshifters. Smooth. Super smooth.
Brake Levers - Shimano V-brake levers
Stem - Nitto Periscopa Stem, 80mm extension, 25.4mm
Bars - Wald "Touring" bars (#8095). Steel. Strong. Cheap.
Brakes - Shimano v-brakes.
Saddle - Brooks, plastic, Painful. From an old Raleigh.
Post -Cheap 27.2mm
Front Wheel - Shimano HB-MC12 hub, Alex rim? not sure on spokes, but there's 32 of them.
Rear Wheel - Shimano STX FH-MC38 hub, no-name rim; 11-32 cassette
Tires - Ritchey Alfa-Bite 2.1 (F); Ritchey Omega-Bite 1.95 (R)
Fenders - Rear: freebie middle-weight Wald steel fender from the nice guys at Two Wheel Transit. Front: Chunk of a campaign sign from a losing (or as Arnold would say, a "looser") Republican Tire store owner that is zip-tied to my down tube.
Lights - Front: NightHawk, with mongo battery pack in the rear basket. That is my "see" light. My front "be seen" light is a cateye blinker (not pictured). Rear: No name super-bright blinker.
Racks: Front: Nitto Tubular Steel front rack. This is a great rack. Super heavy duty and light, considerting how tough it is. The rear rack is an old aluminum jobber from my old Giant touring bike. Ziptied to the old rack is a Wald basket, with a net. No need to ever drive a car to the store for a quick run again. Especially in the snow.
---
johnspeare@gmail.com