30 Jan 03
---
I'm making a bunch of bread tomorrow (the 30th). I'm doing the sourdough again that I tried today, but I'll be adding 1/2 t. yeast. So go to 29 Jan if you want to see the method for that one. I'm also starting a great bread (Pain De Campagne Madame Doz) from Bernard Clayton's book, "The Breads of France," which is has become my favorite book of late; and lastly, we're going to try out the new woodstove by making some pizza in it, so I'll be using Mom's famous focaccia recipe for the crust.
(Later) Here's the sour dough.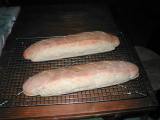 This still did not turn out right. It was too fluffy, we lost our air holes and the crust was blah. As well, the sour flavor is not as strong because I've been using/feeding the dough a lot. I will let the dough sit for a good week and get funkier. We cooked it in the new wood cook stove, and that part was sound.
Pain De Campagne Madame Doz/Madam Doz' Peasant Loaf
Clayton's recipe calls for buttermilk in the starter; I use the dry stuff and increase the water. The starter sits for a day; this bread will be for our Saturday dinner at Jamie and Johanna's new pad.
Starter:

1 package dry yeast
218 g water
1 TB powdered buttermilk
1 tsp vinegar
225 g all purpose flour
Leaven:
Starter
225 g water
280 g whole wheat flour
30 g wheat germ
~150 g all purpose flour
Dough:
Leaven
550g water
small pinch ascorbic acid
675g all purpose flour
4 tsp salt
(Later) This is the second time I've made this bread. It's a total winner. The long preparation (3 days) gives the yeast time to grow, so the bread is very light feeling and has a nice subtle tang to it.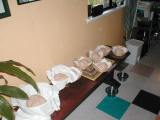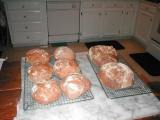 Mom's Focaccia
I'm sure Mom probably has a new version of this by now, since she shared this recipe with me about 2 years ago, and she's always refining her bread. I like this version because it's got dry vermouth (although any dry white wine would work) and olive oil in it. We'll add a touch of whole wheat flour and some fresh rosemary to this dough too. The dough only goes through one rising, then it's pushed onto an oiled pan and cooked with lots of salt and fresh herbs of some kind. As I mention above, we'll be building pizza with this dough, for this reason, I'll probably reduce the yeast to about 3 teaspoons so it's not as fluffy. Note that the amounts below are approximate, this dough should be soft and slickery when it's done mixing. The method below assumes you're using a Kitchen Aid.
Dough
675 g (3 cups) all purpose flour
5 tsp yeast
327 (1 and 1/2 cups) g water
109 g (1/2 cup) dry vermouth
Combine these items and mix with paddle for 3 or 4 minutes, then add...
1 TB salt
some crushed garlic cloves
1/2 to 3/4 cup olive oil
Switch to dough hook and add flour, up to 675g (3 cups) until nice and rubbery. Do not make it tight and stiff. Let it rise once, put it in a pan, coat it with salt, pepper, rosemary, etc, and cook it in a 450° F for 20 to 25 minutes. Sprinkle it with a little olive oil when it comes out. yum.
(Later) This is a great dough for focaccia, but a bit too thick and fluffy for pizza. We all agreed that it was tasty, but should be thinner and chewier. We'll be working on a pizza crust.