Updated April 2009
This bike has changed a lot since I originally wrote up this page. It now has 650B's and cantilever brakes. Story on that conversion here. For a road bike, I've got a fancy new Jeff Lyon. Story here.
created June 2008
About 7 years ago, I weighed closed to 300 lbs. Today I weigh 195 and I've got my sights on 180 or so. The 1993 RB-1 has always been a bike I coveted, but I never really thought I would get one. Mainly, I didn't want to be a huge guy on a race bike, but also, a race bike -- which is what this is, a race bike designed in the classic Italian race bike tradition -- is really a pretty silly bike to tool around on. It can't really take fenders and reasonable tires, it's not a bike you want to strap racks to and load down. But as I shrank I thought about this bike more and more.
The 1993 Bridgestone RB-1/8 is special. It's yellow; it's one of two years where B'stone spec'd a 57.5 cm size; it's spaced for a modern (130 mm) hub; and it's got the fancy Ritchey fork crown. When I hit about 240, this bike popped up on some bike list and it was a reasonable price. I bought it last fall and got serious about loosing the last chunk of weight so I could ride it this Spring. I did and I am and I love it.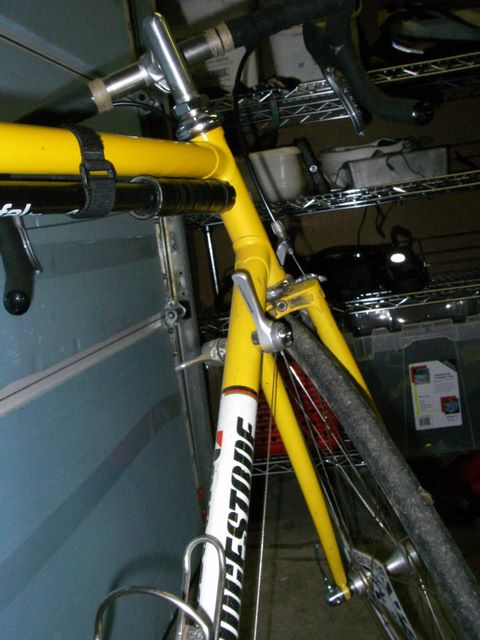 Dig that fork crown
This bike is so much fun to ride that I can't stand it. Whenever I get the opportunity I ride it. So, when it's not raining and I don't have a bunch of crud to haul, this is what I'm on. I've come to appreciate the messenger bag with this bike. I have a big messenger bag and I'll stuff it fat so I can use this bike. This bike is really fun on the High Drive trails, where the trails are smooth and swoopy. Descending Bernard/Ben Garnett is better than any amusement ride I've ever been on. This bike encourages you to fall/swoop/drop into fast corners and did I mention that it's really fun?
---