Updated 9/29/07 This bike has really changed our lives. We love riding bikes and until we got this bike, our daughter (now nearly 5) was in some kind of kid-seat-trailer thing. Although we had good success with a number of kid-hauling solutions, as Maddie grew older (and heavier -- now she weighs 40 lbs), hauling her around on a bike had long-since lost its novelty.
In the spring of 2007, Liza and I had decided to get a tandem that Maddie could ride and grow into. We already owned a tandem that I had found for a good deal. The idea was to put a child stoker kit on the Burley tandem.

As I investigated the child stoker solution, I ran into a couple problems. The first couple issues were that child stoker kits start at about $200 and there's a fair bit of fuss to get them installed. Neither of those issues are showstoppers. The killer was the length of the toptube on the Burley. Even with a hugely long extended seat-mounted stoker stem, Maddie was leaning forward to hang onto the swept back bars.
There are two tandems that I know of that can take a 3.5-foot-tall stoker. The Bike Friday Family Tandem, and the Co-Motion Periscope. The Co-Motion is a great looking bike and there is a local dealer here in town (2 Wheel Transit). The retail cost on the Periscope starts at around $2500. With lights, fenders, rack, touring package, drop bar swap -- we'd be in the neighborhood of $3000. I'm OK with spending that kind of money on this bike, assuming we rode it for 10 years. And if I had found one of these used for around $1500, I'd have bought one. But the Bike Friday Family Tandem starts at about 1/2 the retail cost and there is a comparatively huge used market of the Bike Fridays.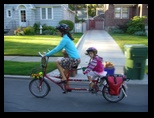 You can find used BF's on the BF Yak list, or like I did, just search Craigslist in Seattle and Portland. They pop up frequently. I spent $750 on ours. I dumped in another $400 or so on a generator lighting system, Tubus cargo rack, fenders and saddles. So all up, we're into the BF about $1200.
Looking back over the summer, we've gotten a great return already on that money. We ride it daily. Every week day we drop/pick up Maddie from pre-school. We travel downtown on the weekends; we've done bike camping; we've done trail riding. It's been a great bike. We'll continue to use the BF until Maddie can fit on the Burley.
Update Nov 2007
We're still loving this bike. It's all fussed up now...with the front rack/basket and Maddie's finery, we've really made it our own. We had a planet bike fender on the rear and we could never get it to not rub or pop out. Back to coroplast.
---