A friend of mine told me that "an old Bridgestone" was for sale at the local Goodwill. I went down and picked this one up for $25. I figured it would be good to have for guests and I really liked the wide-profile canti brake on the front wheel. It sat in my basement for a while until a couple things happened: 1) I picked up a bike at a garage sale with lots of cool parts on it and 2)a (new) friend gave me an old Stumpjumper with a bunch of cool parts on it. I was suddenly awash in cool components.

I shuffled a bunch of stuff around different bikes... and built this up. My wife has since began to prefer this bike. She normally rides a nearly-department-store quality Raleigh that we got on closeout a couple years ago. But, as of late, this has become her daily driver. I love it. yay.

there are a few real gems on this bike that I should call out. First off, the tires are original. They are the Ritchey Cross-whatevers that shipped with the bike. I'm thinking of moving them to my Atlantis; they roll really well on pavement, but help out a bit more than slicks in the dirt trail department. This bike was stored in a dry spot and not driven for many years. The side walls are not cracked at all. Lots of life left there.

I mentioned the wide-profile cantilever brake taht was on this bike. I put that on another bike and LOVE it. I wish those never went away. The only ones you can get now are $100 (per side) from Paul Components. I've seen them, and they rock, but man that's a hard $200 to spend. Anyway. The brakes were made by Lee Chi... sounds Chinese... isn't there also a maker of bike stuff that is named Lee Chen? Well regardless of who made them, they did a fine job. These brakes are just soo easy to set up and they stop the bike like no body's biz.

Check out the saddle: it rules. It's an Ideale. A French saddle. It's friggen huge and it rules. That came on the garage sale bike I picked up for $30. That was a score. The frame is going away, but the parts on that bike where great: old SKS fenders/mudflaps; MKS pedals; blackburn racks, some groovy old bags... anyway

Lastly: take a look at these shifters. Oh Nelly. Man they are like butter. And I hate it when people say that. But they are. These are, hands-down, the best shifters I have ever used. And another thing I really like about them???! YOu can remove them without removing the grips. Why did that feature go away? Probably has to do with weight. Arg. Anyway, these would've gone on my MB-2, but I would have had to destroy the cork grips that were on the MB-2 to take off the existing shifters...I couldn't do it. SO these wonderful, amazing shifters stayed on this bike. Maybe that's why my wife likes riding it so much??

Here's a better picture of the cockpit so you can see the shifters.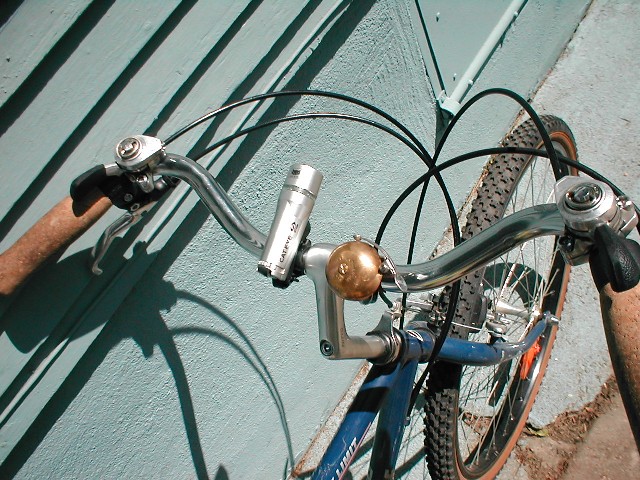 I gotta put fenders on that guy. It looks naked!
---
Sept 05 - -UPDATE: Here's a bad picture that shows the bike a few months older and "broken in." Nothing else needs to be done at this point. Well, I need to adjust the headset. And find another be-seen light for it. But that's it!
---
Here are the components (with notes on where they came from. I ended up stripping this frame all the way down...):
Front Derailleur - Shimano DX from a mid-90's Diamond Back road bike that a friend gave me.
Rear Derailleur - Shimano Deore from the same Diamond Back
Crankset - Shimano LX? FC-MC34, 175.0mm, 110/74 BCD, 42/32/20 chainrings (From a late-90's Novara that a friend gave me)
Bottom Bracket: UN53? whatever the cheap Shimano one is. From the Novara.
Pedals - DiamondBack BMX platforms (recycled cycles?)
Shifters - Super Bitchin Shimanos (From a friend who gave me a 85 Stumpjumper)
Brake Levers - Shimano... can't remember where they came from.
Stem - Nitto Periscopa Stem, 80mm extension, 25.4mm (I actually bought this one)
Bars - Wald "Touring" bars (#8095). Steel. Strong. Cheap...
Brakes - Shimano XT Canti's. Probably came from the Paramount Mnt bike I bought at Recycled cycles.
Grips: Rivendell's cork grips. I love these grips. Love em.
Saddle - Ideale. From the garage sale score.
Post -this actually came with the bike!
Wheels: from the Stumpjumper. Nothing to write home about, but much much better than the heavy turds that came with this bike.
Tires - Ritchey Cross-whatevers. 26x1.62