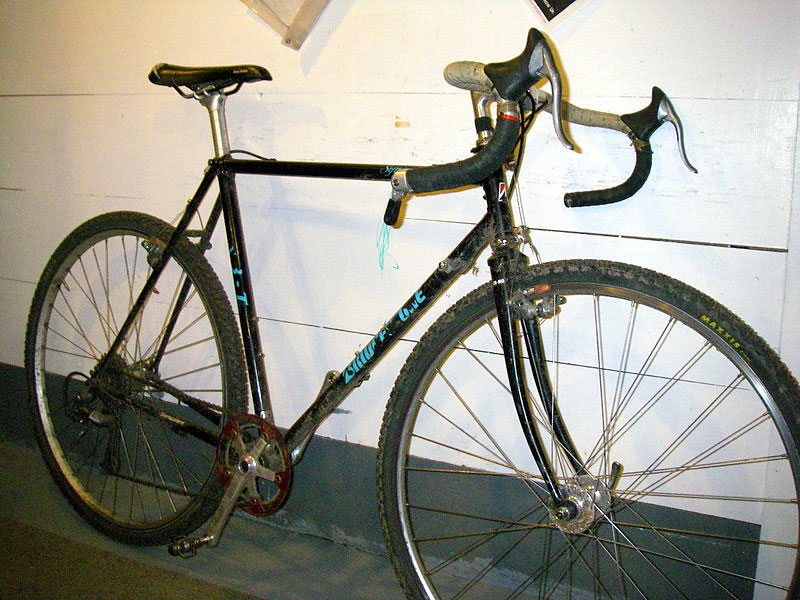 Updated Jan 2009
This is now my cyclocross bike. And it RULES. I love it. Click on pic above to see more pics at Cyclofiend's site.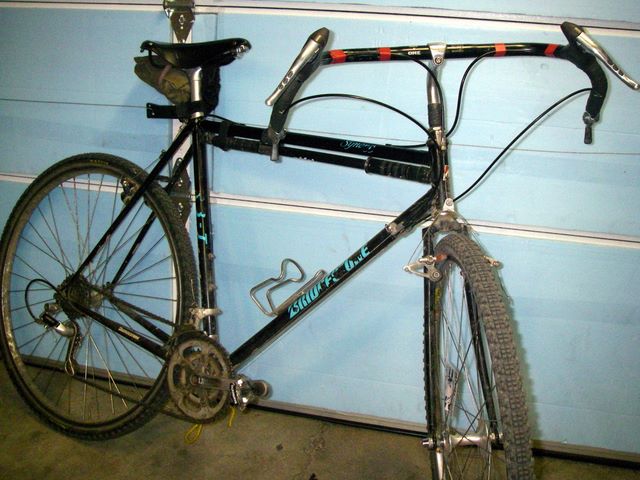 created June 2008
This is my favorite bike ever. It's gone through many iterations. Right now, it's my main trail riding bike. It handles wonderfully, it's got the "magic" standard gauge/diamter tubing. I've got the gearing dialed in with a 44/30 double up front and a 12-32 cassette in the back. The crazy on-one dirtdrop rip off handlebars are perfect. I love it.
I've started this new page to go on about this bike, since the old one was getting pretty long. The old page with lots of history on where I got it and some of the other iterations is here.
---
Here are the components/notes:
Front Derailleur - mid 90's Shimano XT
Rear Derailleur - mid 90's Shimano XT
Crankset - Ritchey Compact, 170.0mm, 94/58 BCD, 44/30 chainrings
Cassette: Shimano 9-spd: 12-32.
Bottom Bracket: Campy (it has carbon on it too!!) 103mm spindle.
Pedals - Shimano SPDs
Shifters - Shimano Dura-Ace bar ends
Brake Levers - Shimano 600;
Stem - Nitto Stem, 25.4
Bars - On-one Midge; heat-treated aluminum
Brakes - Shimano wide-profile cantilever
Saddle - B-17
Post -no namer. Interesting design though. It's got two bolts; not side by side, but instead, one int he front, and one in the rear. This design really makes it easy to get the pitch of the seat just right.
Wheels: Front: Suzie high flange; Mavic 32 holes -- came off a Quickbeam. Rear: LX Hub; Synergy asymmetrical rim 36 holes. Strong wheel. Guy, down at Two Wheel Transit spread the rear triangle to 132.5 on this bike. So I don't have to use the little weenie 126 road bike wheels anymore.
Tires - Maxxis Locust CX. I love these tires. I got them last winter for the snow, which they excelled at. But on the trails, they are even better. By all rights my rims should be bent to crap by now, but these perfectly poofy, perfectly grippy, fast enough tires have been wonderful at saving my rims and doing wonders on the High Drive trails.