Paramount PDG 70 Moutain Bike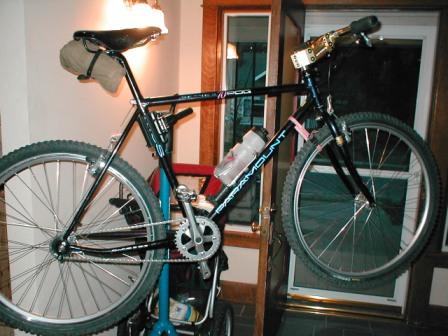 April 2004
I bought this at Recycled Cycles in Seattle. It was decked out with top-of-the-line, hardly-been-used, early-90's Shimano XT components, which I put on the XO-1. I'd never heard of the Paramount mountain bike until the day I bought this bike. My buddy Joey Masterson was with me at Recycled Cycles and gave me the low down on the Paramount. I was there to buy a bike and he made me buy this bike. I'm grateful to him for that.
Here's the scoop as I've been able to gather it. The Paramount was made by a small design group (PDG = Paramount Design Group) at Schwinn in their Waterford factory. Most folks are familiar with the Paramount track bikes, road bikes, and tandems, but like me (until I bought this sucker), did not know that a Paramount MTN bike was also made by Schwinn. Some of the Paramount mountain bike were made in Waterford. Some Paramounts, like mine, were made in Japan. Come to think of it, all of my current bikes are steel, lugged bikes that have been made in Japan. Hmm.
Anyway, I origianally bought the Paramount to try out the Nitto Albatross bars and see what riding upright would be like. I had been reading a lot of the Rivendell stuff (which recommends building up such a bike) and my sister had just picked up an old Schwinn at a garage sale that was upright and very comfy. So I built it up as a comfy ride and it was very comfy. I wrestled some fenders and a rack on it, which was a bit of a pain since the Paramount has no fender/rack eyelets on its drop outs. I rode it for a few months, commuted with it, and really did enjoy it.
But I wasn't satisfied, and I wasn't satisfied For many reasons: knowing the history of the bike... with it's oversized steel tubing made for downhill mountain biking made me think of my days as a kid on my BMX bike. The BMX was an indestructible bit of freedom that you could just abuse. Somehow the Paramount continually reminded me of my BMX bike, and I wanted to set the Paramount free. This, coupled with the fact that the Paramount had no eyelets for fenders/racks AND I had just purchased the XO-1 for a commuter, cemented the deal. I would make a big BMX bike out of the Paramount.
One thing you get from steel frames that you don't get as much from the stiffer Aluminum frames is a bit of flex. For many reasons this is a good thing. There's lots written on why it's a good thing, so I won't go into it. The one place where it's not a good thing is if you weigh 240 lbs and you want to grind up a single-track dirt path on a steel frame. The flex in the frame, along with the massive torque you put on the drive train makes the fun experience of chain slippage, or worse, phantom shifting. It always happens at the absolute worse time: when your grinding and leaning into a climb, and it absolutely kills your confidence. As with love and mating, without confidence, you don't take risks, you don't trust yourself or your equipment, and things just become unfun and too reserved. There is nothing worse than being on a bike in a fast, maybe dangerous situation and having even just an inkling of doubt about your equipment. That is why I wanted the Paramount to become my BMX bike. If your huge, like me, and you still want to pretend you're 12 years old on a BMX bike, and you want to not break your bike, and you don't want to ever ever worry about your bike: you build a single speed.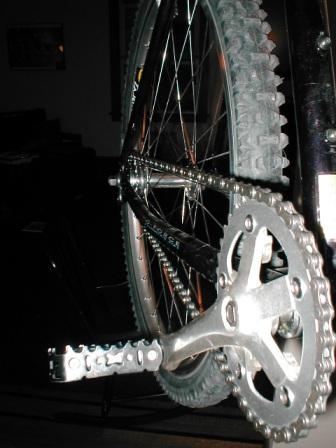 So I built this sucker up, and it is a blast. My only regret with this bike is that I just do not make enough time to ride it. It must be ridden roughly. This is not a cruise around the streets bike. It must be off-road. Luckily I live pretty close (within riding distance) to some decent off road trails. Lots of single-track, rocks, sand, straigh-down hills, etc. This bike just eats it up. I love it. Tons of fun.
Here are the components:
Crankset - Sugino GP, 170.0mm, 110/74 BCD, 36 chainring
Pedals - XT platforms
Brake Levers - Shimano DX
Stem - Softride, Aluminum
Bars - Ritchey Forcelite
Brakes - Shimano DX
Saddle - Brooks B-17
Post - Ritchey
Front Wheel - Shimano XT HB-M730 hub, 14g DT spokes (36), Mavic 519 rim
Rear Wheel - Surly solid axle hub, 14 g DT spokes (36), Mavic EX 721rim 18 tooth freewheel
Tires - WTB VelociRaptor 26'x 2.1
Here is another picture:
---
johnspeare@gmail.com