Loaded up on a trip to my father's house. You can read about that journey here.
June 2006
I built up my first fixed gear about a year ago. I enjoyed riding it, but I ebay'd the frame before I really was able to dig into the experience. When the first Quickbeam came out at Rivendell in 2004, I wasn't too keen on it. I thought it was cool, but I figured if you want a single speed, just build one up out of any old frame with horizontal dropouts, or get an ENO hub, or whatever. It seemed like spending $1400 -- well $1300 back then -- on a single speed, even if it did have 4 gears, was just a strange thing to do.
I travel to the Seattle area about once a month for my job. I am super lucky and fortunate to have a friend in Seattle who loans me a bike when ever I'm in town. He's the same size, he rides wonderful bikes, and he's just super accomodating and generous with letting me borrow his bikes. I think it would embarass him after all this slobbering to mention him by name, but it wouldn't take a rocket scientist to figure it out. Anyway, this buddy of mine had a Quickbeam and let me borrow it. I think that was Fall of 05. Maybe late summer. Anyway, I rode the bike for about 4 days and totally and completely flipped for it. I grew up on a BMX, then went to mountain bikes, and it's taken me a while to get to "go fast" bikes. The QB is a go-fast bike. The simplicity of a single gear coupled with the "faster" geometry just makes for an unencumbered and very free-spirited riding machine. After riding it about 100 miles over the course of 4 days or so, I decided to get one. When Rivendell announced they were going to make another run -- and that the bikes would be orange -- I put the money down.
When I got the bike, I decided to try out fixed riding right off the bat. I put a 16 tooth cog on it and rode it with the 40 tooth chainring. This is about 69 gear inches. Since then (I got the bike in Feb 06), I have ridden this bike almost exclusively and all fixed. I flipped the wheel once to freewheel and the bike just wasn't as fun. I've done long 100+ mile days on it a few times. I've done a bunch of single track and off-roadish riding on it. I just love it. It is a ton of fun.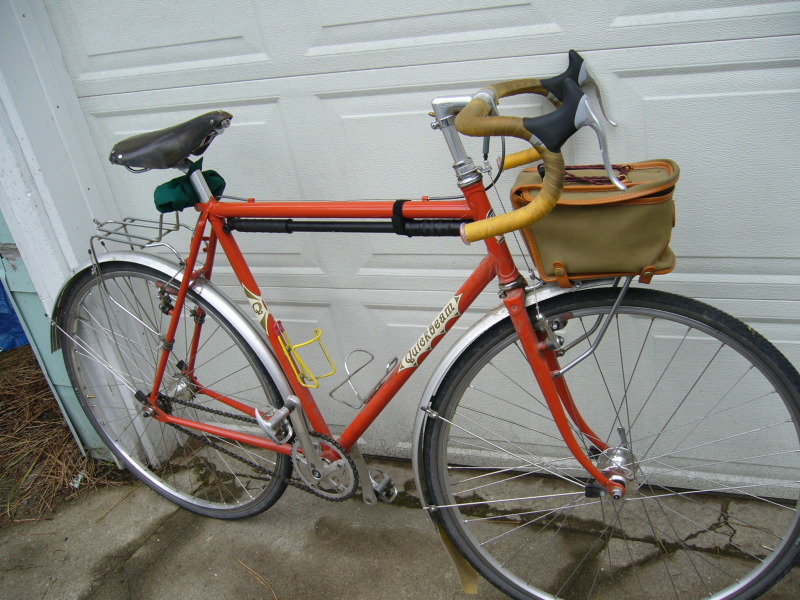 I've made a couple modifications to the stock setup. Since I never used the smaller chainring up front, I took that off. Since I've been doing a bunch of off-roady type riding, and I'm still getting used to off-roading with fixed, I was beating up the rear wheel pretty hard. So, I built up a 36-spoke, high-flange Surly flip-flop on a CR-18 rim. I'm running 32mm Avocet Cross II tires, which I love, but I've got some 35mm's on order. I replaced the stock canti's with some NOS XT canti's I had laying around, and I mounted salmon brake pads. The saddle is a B-15? (not the B17) that I found on a Goodwill Le Tour that was otherwise trashed. And finally, I put the super fancy shimano SPD super pedals on it.


800 x 600 /
2048 x 1536



800 x 600 /
2048 x 1536

Nov 2006 Update
I've really been riding this bike the most lately. I took the generator hub off my RB-T to put a proper winter light on it. As well, I splurged on a front bag with decaluer from Velo-Orange. For a time I was riding with big fat WTB 38mm (real size) low-profile knobbies on this bike. With that change, I lowered the gear a bit and put an 18t cog on the rear, matched with a 40 up front. This allowed me to do light-weight overnighters when it was warmer. I really liked the ride of the WTBs. They were pretty cheap (at $18/ea), but I sliced one open on a hack saw blade on an early morning ride a couple weeks ago. So, back to the Avocet Cross 35's. This bike will be running studded tires for the winter and will be my main snow/ice bike.


800 x 600 /
2048 x 1536