Road Finds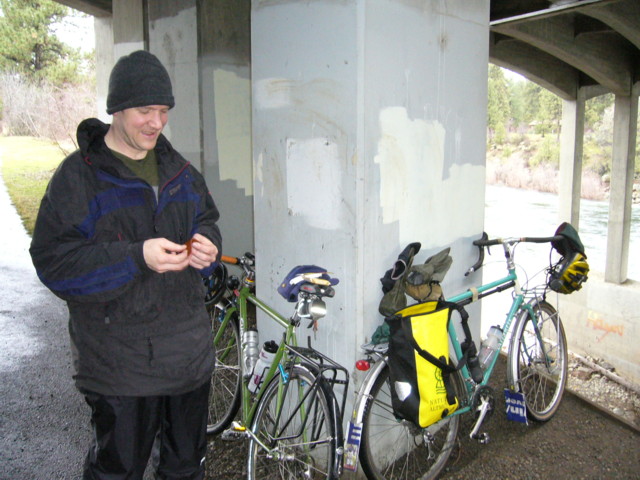 Stuff that I've stopped and picked up or seen. Since March 06. The picture above is my buddy Joe, contemplating a bit of fruit leather on a cold Sunday morning ride in January.

800 x 600 /
2048 x 1536


800 x 600 /
2048 x 1536

A 700x20-28 innertube. Tiny hole. I found this on the side of the road next to a pressurized air canister. "Cyclists" (no doubt, "serious cyclists"), like the wanker who tossed this for someone else to clean up, really suck. I patched the tire and it's a spare now for the skinny 28's I'm running on the RB-T. A couple miles later I found these sweet pliers. Score.
One brand-new, not opened, pocket Kleenex pack. One hunk of steel. But wait. Look closer. This hunk of steel looks very similar to clamp that is sold for the DTTop light. Except, this is made of steel. Weird. It's a perfect fit. The two holes are drilled at about 80 mm (c-c). I can't beleive that this hunk of steel (which is pretty darned heavy, even by my not-caring-too-much-about-weight standards) was made for a DTToplight. Especially, since I've not seen a DTToplight on any other bike in Spokane -- well, except for Liza's.

800 x 600 /
2048 x 1536


800 x 600 /
2048 x 1536

April 19, 2006 -- Score-a-roonie! Best find yet. It works. Now I just need a buddy that has a 2-way radio.
July 2006 -- You see this kind of stuff a lot on cars. I saw this on an early 80's Volvo station wagon. This just seems absurd to put this kind of sticker on any car. So let me get this straight -- your Volvo gets about 20 miles to the gallon and some evil guy's SUV gets 15? uhhh, OK. Got it. You're doing your part.
Final bit of irony: there's a bike in the back of this one. I don't know. Maybe that's not irony. Whatever. It gets under my skin.

800 x 600 /
2560 x 1920


800 x 600 /
2048 x 1536

July 2006 -- Welcome to the Marriot Courtyard Bike Facilities in Redmond, Washington. I guess the managment didn't get the memo -- Redmond is a "Bicycle-Friendly Community" according to the League of American Bicyclists. If you are an employee of the Marriot, then you can park your bike here. It's uncovered (a handy feature in the Puget Sound area); the scrawny tin rack is not bolted to the ground; it's behind the kitchen entrance in a very unlit area... oh yeah, and that's the smokers' area too. Welcome to the Marriot! Luckily as a paying guest, I just brought my bicycle into my room. I got a couple weird stares (maybe because it was a Bike Friday?), but no one told me to park my bike at the rack.
July 2006 -- My "Road finds" section here is taking a cynical turn. I'll find something happy next time. But I see this sign painted in the "Wheels Only" lane in Riverfront Park multiple times a week. The question here: if you don't read English, then what does this symbol tell you? It tells you to walk in the lane that is "Wheels Only." Isn't the whole circle with the line through it just a standard bit of universal signage? Why did the folks at Riverfront Park do it like this? Riverfront park, as you recall, is in the center of Spokane and was the site for the International Expo of 1974, so we do get a fair number non-English speaking visitors enjoying this park -- not to mention local non-English speakers that live and work in our community.
---
johnspeare@gmail.com