Updated Nov 07 Liza and I are going to share this bike this winter. I'm a sucker for cantilevered frames like this. The bummer about these old Schwinns though is that they typically have coaster brakes and the wheels are always huge steel turds. So when I saw this bike at Time Bomb, kitted up with a Sturmy Archer 3 speed and alloy 26" wheels, I was intrigued. Then I noticed that the previous owner had also brazed on some cantilever studs. Nice. Easy sale.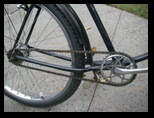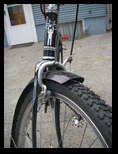 Check out how low the gearing is on this bike. 1st gear is a spin fest, and 3rd gear is actually usable, unlike most bikes with the sturmy archer hub, where 3rd gear is great if you are going down huge hills and want to go 40+mph.
We put the bars and grips on there. We put a B-17 on it and we swapped the seat post binder bolt with a quick release. It will run a NiteRider MiNewt light in the front and a Planet Bike blinky in the back. With a quick seat adjustment it fits both Liza and me good enough for tooling around town. I'll probably find a rear rack/basket solution for it. It's running studs: Nokian Hakkapelitta 106's.
---