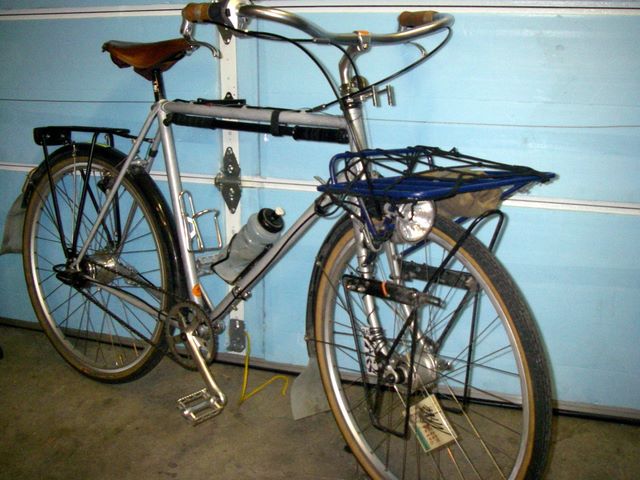 June 2008
Since building up my all-rounder-do-everything RB-T, I decided to try something different with this bike.
Ultimately, I'd like to build a good porteur/city bike out of this. I'm not sure it's there yet. Until I nail the city bike thing, this will serve as a great crap-hauler. I removed the triple and put an S7 SRAM internally geared hub on this. Obviously, the handlebars changed too. They're too high. If this bike evolves, then it will get a chain case, shorter/less reachy stem and more traditional porteur bars. This bike sits you way upright, which is nice for tooling around the neighborhood, but is not fun for long trips; I prefer more drop.
My plan in the short term is to build a kayak-hauling set up for this bike. With the front rack and the low-rider rack, I could do easy/short overnighters to slow parts of Spokane River or to Badger, Newman, Fishtrap, CdA, or other near by lakes.
I may regret removing the drop bars and the triple and rear derailleur on this bike if I end up doing a lot of this kind of stuff. This bike was great for our dirt/backroads bike tour of the Gifford Pinchot National Forest last summer. So as it stands now, I don't have a full-touring bike set up. Which feels weird, but really isn't considering how little I do fully-loaded, multi-day touring.
One fun thing I did was to incorporate a drag brake into the bike build. The S7 comes in a drum brake version, so in addition to the two canti brakes, I have a drum/drag set up. You can just see the shifter mounted on the left side of the downtube. That shifter engages the drum brake. The idea is to engage it on long descents when hauling a load -- this will prevent the rims from over heating. The drum brake (hopefully) has asbestos pads and can take a good long descent without burning up. That's how the drum brakes on tandems work anyway. One of my first rides was on some steep dirt sections under Palasides park, the drag brake came in very handy for maintaining easy control on the steep rocky sections.
++++++++++++++++++++++++++++++++++++++++++++++++++++++++
Nov 2007
Original Setup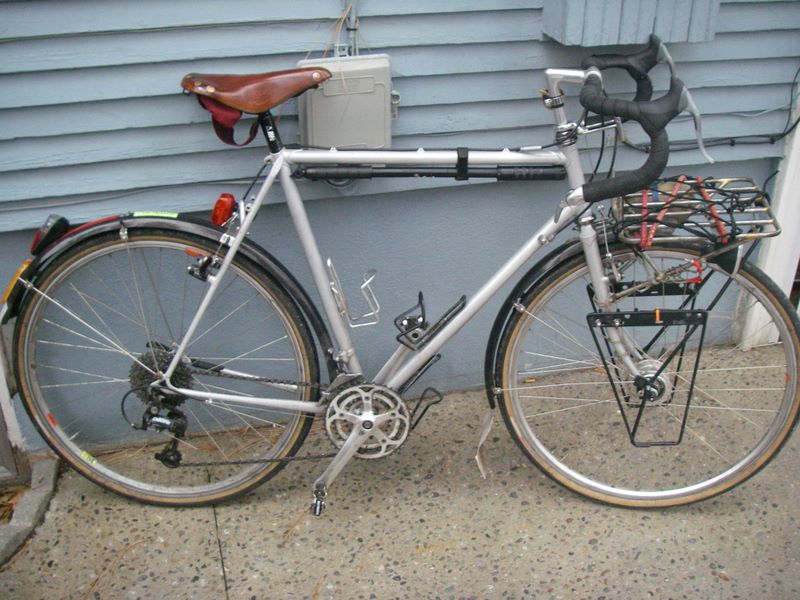 More to come. The story on this bike is here.
In a nutshell, I wanted to build a do-everything bike. This bike was modified by Gary Selner (Hairy Gary) to take canti brakes. The fork was raked a bit; the bike runs 650b wheels. The bitchin rack was made for me by my buddy Alex. This bike is great.