1993 Bridgestone XO-1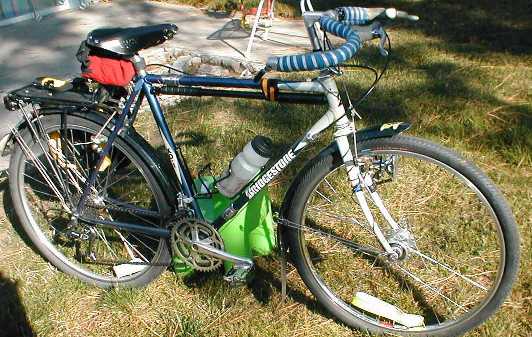 What's with the paint job? and the S&S couplers? See some history on this specific frame here at Alex Wetmore's site. Also see my mail thread with the fellow who fixed, coupled, and painted the bike here (It's an email thread, so read it from the bottom-up).
This frame is just too small for me. It's a 52cm frame. I really wanted to build this up and make it the everything bike. I've tried it in various configurations:
Now, we've gone full circle.
For a while I had this bike for sale. I really didn't want to sell it, and I was glad it didn't sell. My wife has been riding more and more over the last year, so I talked her into giving the X0-1 a shot. I set it up with drop bars (in progress pic) and she kind of liked it. But she didn't love it. She wanted fatter tires because the ride was a bit harsh with 1.0 Ritchey Slicks compared to the fat-tired city bike she's been riding. She also disliked the bars and downtube shifters. I suggested the moustache bars with bar-ends (which I still had laying around from the last version of the bike) and she decided to give it a try.
Now she loves it. She rides this bike every day. With the waterproof Ortlieb bag; a dynomo hub and e6 light, super reflector-action, she is really using the bike as primary transportation when our daughter is not going along. Mind you, this is a woman who did not like bike riding at ALL just 2 years ago.
This goes to show that it takes time and evolution to find a bike that's just right for your riding. The important part here is that taste evolves as you ride more and longer rides. Liza started with a near-department-store quality Raliegh "comfort" bike. She loved it and thus began her riding life. I build up the city bike last spring and she loved that bike even more, because "it felt faster." She was not sitting as upright on the CB-1 as she was on the Raliegh. Now, with the X0-1, she feels (and is, compared to me at least) much faster, and is having a lot more FUN on the bike. She keeps up with traffic, doesn't shy away from hills, and enjoys riding at night and in cold weather. (Even in the snow). It's been extremely gratifying to watch this transformation and we have a great time riding together,especially when we can get out alone on our "fast" bikes and tool around together. I love it.
See specs for 1993 Bridgestone X0-1 frame at Sheldon's site.
Obligatory component list:
Crankset - Old School Specialized (from 85 Rockhopper), 170mm 110/74 BCD, 46/36/24
Pedals - XT platforms
Brake Levers - Shimano 105; with white hoods. Nice.
Stem - Nitto Technomic
Bars - Nitto Moustache, wrapped in blue/reflective cork
Shifters: Suntour barcons
Brakes - Diacomp 986
Saddle - Brooks B-17
Post - Cheap, No-name 27.2mm
Front derailleur: 1st generation Shimano XT "deerhead"
Rear derailleur: Shimano LX
Front Wheel - Shimano DH-3N70 dynohub - 36 hole; Wheelsmith spokes (14/15); Sun CR-18 rim; PJW-built wheel.
Rear Wheel - Shimano 105 hub; 7 speed cassette (12-32); 14/15 DT spokes.
Tires - Ritchey Slicks: 1.4" Cushy
Bag/Rack - Ortlieb waterproof panniers. Old blackburn rack.
Lighting: Front light: Schmidt E6; rear light: DTToplight Plus
---
johnspeare@gmail.com