March 2007
This is a great old frame. It almost got away at one point, but it was meant to stay. It's cool to think that just 20 years ago a silver-brazed lugged frame with thin-walled, standard gague tubing was being made in America as a production bike. This was Trek's top of the line touring bike in 1983. It's made with Reynolds 531c tubing, has long chainstays, a low bottom bracket and lots of trail.
I had a Rivendell Quickbeam for a little over a year. It was a fantastic bike that encouraged me to ride fixed on all surfaces. In fact, my favorite riding for the Quickbeam was on single-track and in traffic -- sort of fast, swoopy, sprinty riding. The Quickbeam was tough with its oversized tubing, but I've really been convinced lately that standard diameter and thinner gauge tubing makes a big difference in "liveliness" or "feel" of a bike. So, this 720 was a great conversion for me: similar geometry to the Quickbeam but with the tubing I prefer.
I also really like that it's an American made bike. That resonates with me more than it has in the past. I must be getting old.
I moved all the Quickbeam bits to this frameset and it's about the perfect fixed go-anywhere bike. Aside from being fun on trails and in traffic, it does well on longer hauls too. I'm looking forward to doing the ride to my father's house on this bike, as well as some overnighters. Since building it up, I've taken it on the highdrive trails just about once a day.
Here's the brochure page for the bike in the 83 catalog: http://www.vintage-trek.com/TrekBrochure1983Part2.htm#page14.
Here's the geometry for the bike: http://www.vintage-trek.com/images/trek/1983/83Trek3.jpg.
Component-wise, there's nothing really that interesting going on. It's basically the same stuff that was on my Quickbeam. There are two changes that I think are kind of interesting. First, I'm using a deepV rim. I wanted to use a 135mm axle in the rear and I wanted to go fixed. I like lockrings, so the Surly fixed/free 135mm hub was my only option. It only came in 32 holes. I'm paranoid about strong wheels. The Deep V is suppossed to be the bomb. So, I gave it a shot. Liza built up the wheel and so far I've punished it pretty good and it's holding up perfect. Is it the rim? or the builder?



800 x 600 /
1600 x 1200
The other thing that's new on this bike is the Surly "tug-nut." I can't remember why I had this, but I'm glad I do now. I think the big selling point of this is to give you piece of mind so you don't pull your axle out horizontal dropouts when your mashing. For me the benefit is setting up the wheel, I can get perfect chain tension by twisting the thumbscrew on it. Very easy to set up the rear wheel. And I get that insurance. I hate the built-in bottle openers. Stuff like that bugs me. The reason I hate it is because it gets in the way of rack/fender mounting. Yeah, it looks cool, but what kind of renob needs a bottle opener to open a bottle? Anyway, the super critical eye will see that the fender and rack stays share an eyelet on the tugnut side. Actually, Surly is really good about funcionality over bling for the most part. But man, this one bugs me.
Update: Nov 2007
This has been a fun bike. I broke the cranks that were on here and replaced them with some old XTs. I run the bike rackless now. I'm going to get new forks for it. Go for the low-trail fixie. Plus I think the forks are bent or maybe the steerer tube is bent; I get severe toe clip overlap on this with the fender, which has put me in a few akward spots on the trails and waiting at lights. The new fork will have 65mm of rake (this one has about 45). Pics for now...
Update: June 08
I got new forks a while back for this bike. They put the trial at about 40 mm. My buddy Patrick painted them. The bike is more fun to ride now; a bit more responsive. I don't ride this as much as I used to though. I'm having more fun on other bikes. Maybe fixed riding has run it's course? I was thinking the other day it might be fun to make this into a 1x9 CX-type bike. In the winter it's ideal wearing studs and serving as the fixed-gear-on-the-ice bike -- so a 1x9 CX-type bike wouldn't be forever.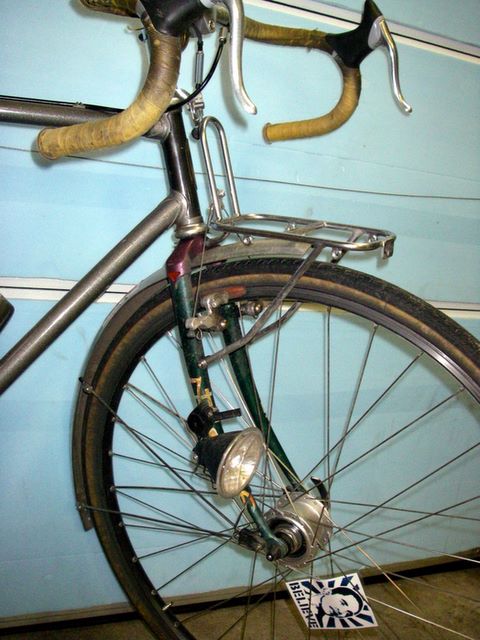 Updated Jan 2008.
This bike has pretty much become my ice bike. There's a quick description of the icy bikiness set up on my blog.