1985 Specialized Stumpjumper Sport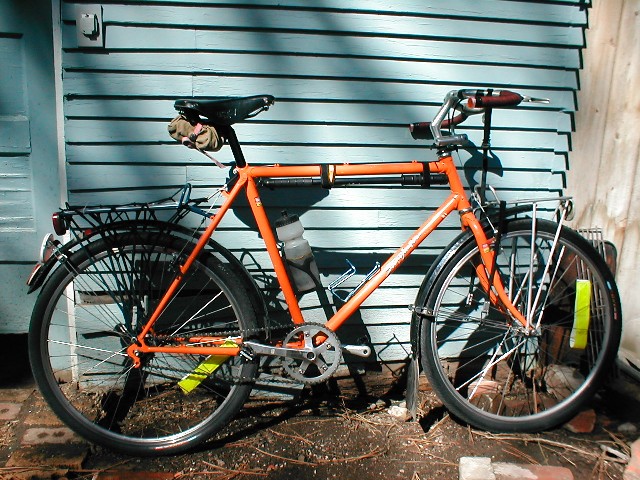 I've really gotten into single speeds in the last year or so. The first one I built up was a Paramount Mtn bike. It got to the point where I was riding that bike more than any other. I live within a mile of some pretty fun single-track and downhill riding so I was really giving the Paramount a good workout every day. I really came to appreciate the simplicity and little-to-no maintenance that it required. However, the Paramount is set up as a downhill, off road bike. Not very comfy for tooling around town.
So, I built up my X0-1 as a single speed. The bike is too small, but I enjoyed the X0-1 as a single speed more than I did in any other configuration. Enter the Stumpjumper.
Ever since I was around 12 I wanted a Stumpjumper. I remember when a kid up the street, in about 1985 got one. Actually, his dad got it, and they shared it. I'd kind of forgotten about the early Stumpjumper for many years until I started seeing them on the First Flight website.
With the super-long chain stays, slack geometry, and low bottom brackets, they're nothing like the mountain bikes that are sold today. (not to mention the obvious: made of steel with lugs). But as a all-rounder/city cruiser, it works great. For single-speed, it's super easy because it has horizontal dropouts.
I really enjoy riding this bike. I intend to do some 24 hour overnighters this summer with this bike. I'm getting better at grinding up the hills, so hopefully by mid-summer or so, I'll be able to power up the local mountains with a small load on this bike.
Components:
Crankset - Ritchey Logic, 172.5mm, 110/74 BCD, 42t chainring
Pedals - shimano 510? SPDs
Brake Levers - Shimano 105; with white hoods. Nice.
Stem - Nitto Dirt Drop, 26.0mm clamp
Bars - Nitto Moustache
Brakes - Shimano STX cantilevers with Koolstop salmon pads
Saddle - Brooks B-17
Post - Cheap, No-name 27.2mm
Front Wheel - Shimano XT M-730 hub, not sure on spokes (32), Araya RM-400 Pro rim
Rear Wheel - White Industries ENO Eccentric hub (130mm), Spokes: 14 gauge DTs (36), Mavic 221 rim. I bought this hub when I had the X0-1 built up as a single speed. It's kind of redundant since this bike has horizontal dropouts, but it makes for perfect chain tensioning.
Tires - Tom Ritchey Slicks 26x1.4.
Racks - Both are blackburns. Front came off a mid-80's Panasonic bike that I found at a g-sale. The rear came from Recycled Cycles in Seattle.
---
johnspeare@gmail.com