1985 Specialized Stumpjumper Sport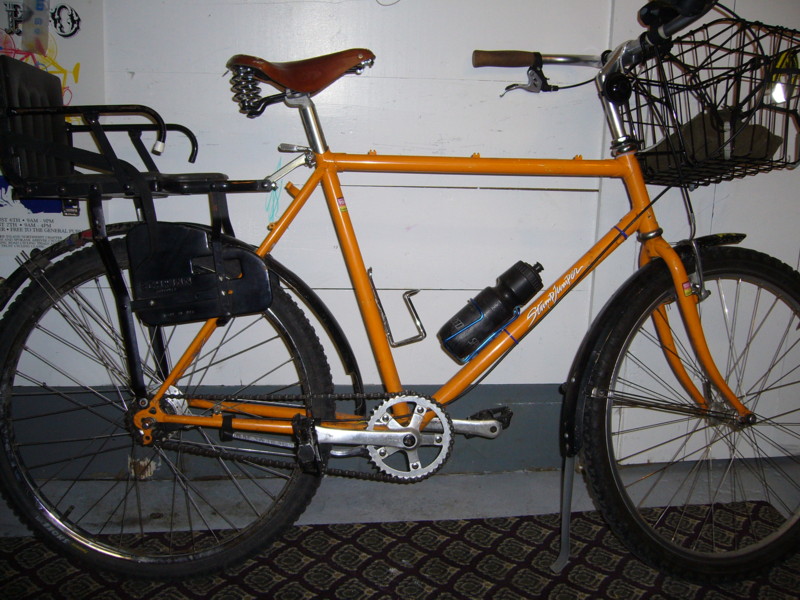 This is just such a cool frame. For a while, I was going to sell it, but it's such a good size and color, and it's just a really versitile frame. I had it built up as city single speed fun bike for a while.
Now, the bike is shared b/t my wife and me -- for running around with Madeline. This frees up my wife's CB as a kid hauler, and puts it back to a grocery/crud hauler.
Components:
Crankset - Shimano XT, 175mm, 110/74 BCD, 36t chainring
Brake Lever - Shimano cheap-o v-brake (front brake only)
Front Brake: shimano cheap-o v-brake.
Stem - Nitto Dirt Drop, 26.0mm clamp
Bars - Nitto Albatross 56cm (cromo) with the famous Rivendell cork grips.
Post - Cheap, No-namer
Saddle - Brooks B-67
Front Wheel - Shimano HB-MC12 hub, Alex rim. not sure on spokes (32)
Rear Wheel - 7 SP internal Nexus (Shimano) hub. Built onto a huge, cheap, heavy steel "cruiser" rim. What a dog.
Tires - Tom Ritchey Slicks 26x1.4 / or knobbies in the winter.
Rear child seat: Schwinn vintage, made in USA seat. Wald basket up front.
---
johnspeare@gmail.com